After the
sentence on appeal

, the

judicial battle

goes on
Antoine Deltour has decided to appeal to the Luxembourg Court of Cassation after his conviction on appeal in the LuxLeaks case. Antoine acted as a whistleblower in favour of the public interest and participated to the disclosing of massive tax evasion schemes from multinational firms. He must be protected, not condemned!
June 30th, 2017
Appeal to higher court
Conviction is confirmed
The LuxLeaks appeal trial ended on 15 March 2017 with a verdict lacking courage: Antoine Deltour is sentenced to a suspended 6-month jail sentence and a 1,500 € fine; however, for the first time, a European national judge recognized the legitimacy of violating professional secrecy in view of the general interest. Antoine was therefore acquitted as a whistleblower for having transmitted documents to a journalist but he was sentenced for getting these very same documents!
Appeal to "Court of Cassation"
On April 5th, at the general annual meeting of its support committee, Antoine announced his decision to appeal before the Court of Cassation. A few days later, Raphael Halet, the other Luxleaks convicted whistleblower, also announced his decision to appeal. The Luxembourg Court of Cassation will deliver its judgment in a few months. Meanwhile, Antoine continues to live and work in Lorraine (eastern France), wishing to have a normal life.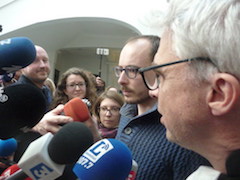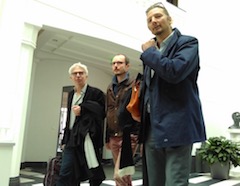 The follow-up to the judicial struggle
The Court of Cassation of Luxembourg will rule only on the strict application of the law and not on the whole LuxLeaks case. If the Court quashes the judgment on appeal, a new trial would take place. On the other hand, if the Court confirms the conviction, Antoine would be able to appeal to the European Court of Human Rights (ECHR), which has well-established jurisprudence on whistleblowers.
This judicial decision does not correspond to the features of a fair decision; I would not be consistent if I would not go for appeal, as permitted by the law. I consider that European law is fully on my side.

Antoine Deltour
announcing his decision to appeal, on April 5, 2017.
Whistleblowers' protection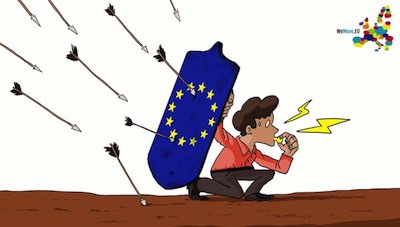 Protection in France
Following the adoption of a law in 2016, firms (with more than 50 employees) will have to set up, by 2018, internal procedures for the collection of alerts. An essential issue at stake will be the guarantee of confidentiality for whistleblowers. Moreover, they will be able to directly contact the media only when "serious and imminent danger" or "risk of irreversible damage" are at stake.
Towards a European Status
At the beginning of 2017, more than 6,000 contributors participated to the public consultation on the future "Whistleblowers" directive. The legislative follow-up to this consultation is however currently unknown (in terms of timing and content). Jean-Claude Juncker, interviewed in May by the Panama Papers Committee of Inquiry, announced that the directive will be presented within a few months. So we'll have to be patient. A petition in support of this directive has already brought more than 70 000 Europeans. Sign it!
Fight against tax evasion
French elections for nothing?
Fraud and tax evasion were secondary issues in the presidential and legislative campaigns last spring in France. The newly elected President and his majority seem willing to take up these issues. But with no strong ambition, this plague can't be effectively fought. Each citizen in France and worldwide has to keep on putting pressure on one's elected representatives!
Major step at the OECD
In June, 70 countries signed the BEPS Convention, the result of many years of work by the OECD. This agreement aims to fight the aggressive tax optimization of multinationals through a multilateral revision of tax treaties between signatory countries.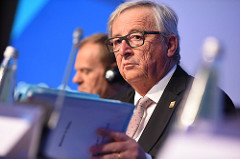 EU can do better
Following LuxLeaks and other scandals, the European Commission has begun to act against tax evasion: automatic exchange of tax rulings, abusive agreements declared illegal (Apple in Ireland…), re-launch the Common Consolidated Corporate Tax Base project. But all this is very little compared to the magnitude of the issue. For example, why aren't some practices simply forbidden in the recent draft "transparency rules for tax planning intermediaries"? Similarly, the revelations of the Malta files have shown that many countries and companies refuse transparency within Europe itself.
In my opinion, the fundamental change [on taxation] comes from the public's awareness of the problem, not from companies

Antoine Deltour
in an interview with the webmagazine LeLanceur.fr (in French) published on April 18, 2017
Keeping mobilized
Your financial support
Your donations have covered all Antoine's legal fees since the beginning of the proceedings. Thank you for your generosity! At the annual general meeting on April 5th, the support committee presented the accounts of the association, which are positive (available on request at [email protected]). Antoine can thus face more serenely the continuation of the judicial marathon that stands in front of him.
A broad mobilization
In more than two years, more than 213,000 people signed the petition to support Antoine. At the time of the appeal in December 2016 and January 2017, public support had exceeded 500, including 70 organizations.
T-shirts
T-shirts to support Antoine are now on sale (web site in French only). T-shirts are made of organic cotton, resulting from fair work, and printed in France. Black color. Available in women's or men's cuts, in sizes S to XXL.
Online orders are possible for delivery to France or the EU (for other countries, please contact us).
| | |
| --- | --- |
| You're receiving this newsletter because you expressed your support to Antoine or you subscribed on our web site. | Unsubscribe me |
Photo credits: "Antoine au micro des journalsites" © Comité de soutien à Antoine Deltour / CC BY-SA 4.0 – "Antoine et ses avocats" © Comité de soutien à Antoine Deltour / CC BY-SA 4.0 – "Blow the whistle!" © WeMove.eu / CC BY-SA 3.0 – "Jean-Claude Juncker" by European People's Party / Flickr / CC BY 2.0